SATBUSTER
for Windows
(Version 2.0.3)
Satellite tracking software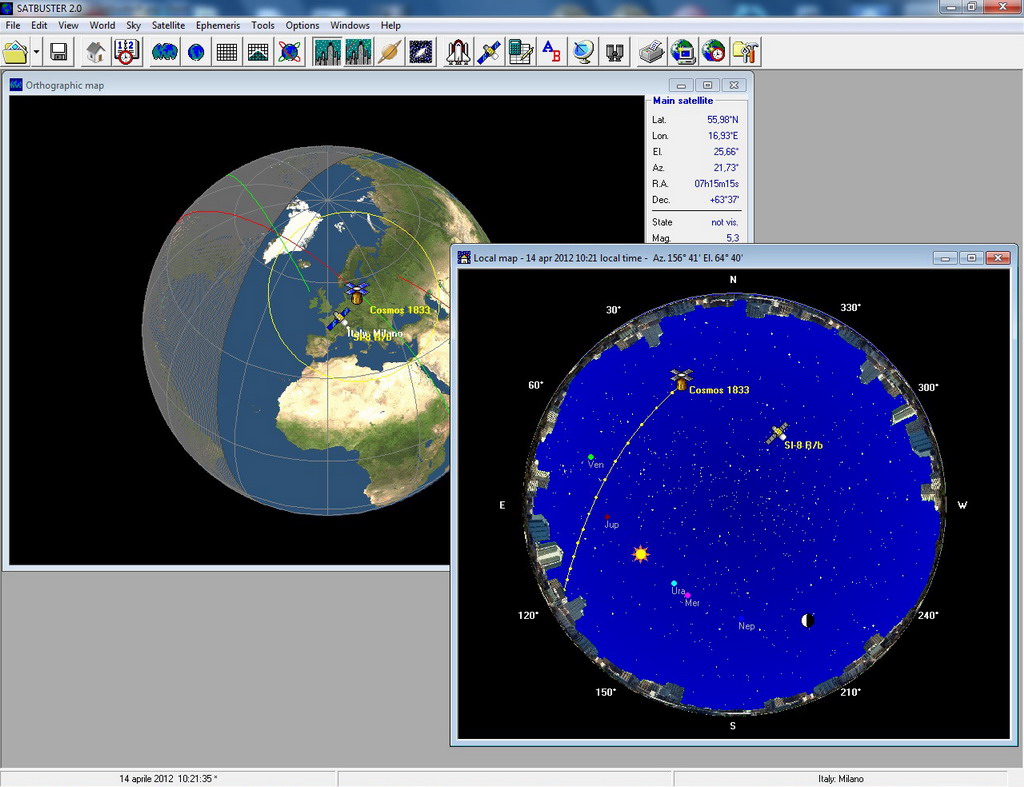 Introduction
SATBUSTER for Windows is especially designed for satellite visual observers and trackers. Its users, mainly amateur astronomers, radio amateurs and satellite trackers, appreciate both the accuracy and the simple to use graphical interface.
The software is aimed to hobbysts. However a growing number of plain folks use this tool to recognize and look at the International Space Station (ISS) , the chinese space station (Tiangong) and hundreds of satellites.
Absolute beginners are attracted by the fact that more than one hundred of satellites can be seen with naked eyes and a binocular can greatly expand the database of visible objects.
The first public release has been published in 1999 and it has been upgraded during the years. Since then the software has maintained backward compatibility with all the Windows platforms (it works on current Windows 10 release and Windows 95 as well !!).
Here you will find all the informations you need in order to freely download and evaluate the program. The trial version is fully functional with the only exception of the "save settings" function. The full version is available upon registration (see the section below).
This section shows you some captured screens of the program.
What are the most important features? Take a look inside.
Download the software
The most up-to-date release and bug fixes
How to get technical help
How to become a registered user
Login page for registered users only
TLE ( Two lines elements) files automatically updated to get reliable prediction
What you should know about satellite tracking
Interesting links
Do you need more info? Write to:

(please remove the word NOSPAM from the address above)
Copyright © 1999-2021